News
Rif. FG15 Fantasea
Custodia Fantasea per Canon Power Shot G15
profondità di utilizzo 60mt
tutti i comandi riportati
materiale in policarbonato
sistema allarme umidità acustico/luminoso
Prezzo al pubblico Euro 480,00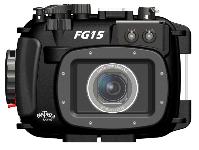 Edivecam
La nuova micro video/fotocamera Edivecam del marchio Époque ha le seguenti caratteristiche:
VIDEO FULL HD 2592H X 1944V
RISOLUZIONE 1920X1080 30 fps, 1280X720 60fps, 848X480 WVGA 60fps
FOTO 12MP VARIABILE, 12/8/5/3MP
OBIETTIVO WIDE 140° F3,35
2" TFT LCD MONITOR
MICROFONO
WB auto
BATTERIA RIC: LITIO ION 1100mAh
DIMENSIONI: CUSTODIA 104X70X72mm, CAMERA 74X48X46mm
PROFONDITA' DI UTILIZZO: 80MT
Disponibili accessori di cui: staffe, bracci, filtri, lenti macro, supporto per maschera sub adatto sia Edivecam che per GO PRO
PREZZO LA PUBBLICO EURO 380,00
AQUATICA AD7100
Montreal, Canada. June 12, 2013
Press release: Upcoming Aquatica AD7100 housing for the Nikon D7100 camera
The Aquatica Team is proud to introduce to you the Aquatica AD7100 housing for the new bench mark in digital photography, the Nikon D7100.
Aquatica has designed the ultimate housing for the new Nikon D7100 camera. Along with the comfortable ergonomics usually associated with our housings, the AD7100 also incorporates a multitude of refinements. Among them, it offers access direct to the Fn button. This is done via an easy to reach and unique design push button that is conveniently located on the rear of the housing. The many Custom Functions roles that can be attributed to this Fn button sure made it worthy of attention of our design team.
- Image area (FX to DX and vice versa)
- Convert to depth of field Preview
- FV Lock (lock the flash value)
- AE/AF Lock
- AE Lock only
- AE Lock (Reset on release)
- AE Lock (Hold)
- AF Lock only
- AF-ON
- Flash Off
- Bracketing burst
- Active Lighting
- Metering pattern
- Framing Grid
- Personalized Menu
- Playback
- 1 Step Speed/aperture shift
The housing features an internal flash up/flash down capability, a quick access ISO lever that is thumb actuated and a total of three access holes are provided to accept various accessories such as our remote trigger (# 19306), Hydrophone and/or external monitors.
 Aquatica has the most comprehensive selection of easily interchangeable strobe connectors in the industry. The 20073-NK has two of the classic 5 pins Nikonos connectors and the 20073-KT is supplied with a time proven 5 pins Ikelite connector. Both version are ready to accept currently available TTL converter, S-TTL is also available with the 20073-OPT through optical connectivity with either of the supplied Sea & Sea and Inon type adapters. Lastly the 20073-HYB offers both a classic Nikonos and an optical connector giving the housing the ultimate choice in strobes selection. Bulkheads are now replaceable in the field without the need for specialized tools.
This precision housing is the product of a time proven lineage of underwater camera housing. Over 30 years of expertise in this field has made sure that every aspect of the housing's ergonomics was studied and access to its controls carefully implemented. This housing is a statement to the constant evolution of our knowledge and of the influence of the many professional's image makers from around the world who work and consult with us.
The Aquatica AD7100, like all of our housings, benefits from the finest material available in the metallurgic industry. It is carefully crafted from a selected alloy of aircraft grade aluminum and graced with the finest grade of stainless steel for its multiple controls. Every Aquatica housing is machined on the latest 5 axis computer assisted machines. It then undergoes a protective anodizing process to the stringent North American Military Specifications. For further protection, a baked on powder coating paint is applied, this coating is as tough as nail tough. Furthermore, corrosion inhibiting, zinc anodes are supplied as standard equipment. This extra level of protection does make a huge difference as can be seen on some Aquatica housings that even with over 1,500 dives on them, still look as fresh as the day they came out of the box. This housing is made for the hard working professional in mind, one who truly understands reliability in the field.
The AD7100 housing features a newly designed camera tray; it smoothly and precisely positions the camera in the housing and is easily disengaged by a simple push on a tab, it incorporates a linkage for transmitting mechanical input of the Fn button from the rear to the front. The zoom actuating pinion gear and the lens release lever pull out to allow the user to remove the camera from the back while keeping a lens and zoom gear attached.
All video controls are designed for easy reach and smooth operation. Whether it is for video or for still images the serious side of this housing operation is apparent from the get go.
The AF-L/AE-L button access is provided with a lever right under the users thumb. Menus buttons are angled to provide better access for your left hand. The AD7100 also uses the new 4xxxx generation lens gears system with a smaller housing pinion gear and a larger lens gear, the results is a smoother action while zooming in a video sequence.

The AD7100 retains the same standard 90m/300ft depth rating as all our other housings and can still be upgraded to 130m/425ft depth rating. Its knurled knobs and oversized controls mean easy operation no matter what the situation is. Anyone familiar with our climate knows that being built in Canada also means that all housings from Aquatica are born and bred in one of the world most rugged diving environment. Bottom line, if it works in our local conditions, it will work everywhere else!
The AD7100 retain our popular molded grips; these have been the reference in comfort for the last 25 years
They are lightweight, sturdy, are made of one piece and cannot come unglued, fall apart or corrode. Both grips have mounting holes ready to accept popular mounting bracket of our TLC system and for the most current strobes and lighting arms out on the market. An extra mounting point for a focus/video light or other accessories is on top of the housing and three additional mounting points are provided under the housing for various brackets, support or tripods.
 Seen on the right is a view of the business side of the new Aquatica AD7100, clearly showing the serious nature of this housing. On the left hand, the buttons and mode selector control are angled and positioned for quicker access to the various functions. On the right hand the record lever has been relocated closer to your index. The Live View toggle remains within easy reach. The multi controller pad found on the Nikon D7100 is made accessible with a simple and proven design and its SET button has been oversized. All push buttons are of high quality Type 304 stainless steel, the same used in the aerospace industry; these will not break or rust. Their smooth operation and position gives the photographer a very intuitive and normal feel to the housing.
Aquatica housings are supplied with our own exceptional Galileo type eye piece. This high quality and coated optical finder gives a bright and full view of the view finder. For those seeking the ultimate in viewing for still image, the optional Aqua View Finder, available in straight 180 and 45 degrees version, are among the best of the industry. They can easily be installed in a matter of a few minutes by the user. The enlarged and enhanced image of the Aqua View Finders are second to none in clarity; they provides the photographer with tack sharp corner to corner viewing of the camera view finder for composing and critical focusing
The D7100 is supported by one of the most established and comprehensive port and accessories system of the industry. This port system has been a stable platform for over 20 years and remains one of the most reliable and used designs on the market.
This philosophy that made Aquatica housing so popular over the years certainly has not been lost on this newer version! Every effort was made to give you an underwater imaging system that can be tailored to your needs. The AD800 is rugged and reliable housing, one that will adapt to your needs and will last for the longest time with a minimum of care.
Retail Priced at just  Euro 2,700   body
For more information and availability, please contact your dealer or Aquatica at Questo indirizzo e-mail è protetto dallo spam bot. Abilita Javascript per vederlo.
Rif13
La nuovissima  custodia dal desing  aerospaziale  è  universale,  adattabile a tutte le reflex digitali  Nikon e Canon predisposte di presa USB di cui: Nikon D2/D3/D4, D90, D300, D600/700/800, D7000/7100, Canon 50D, 60D, 7D, 5D, 400D, 500D.

Possiede un rivestimento color nero e argento  in lega  ceramica antigraffio.
I comandi delle fotocamere sono gestiti elettronicamente  tramite  connessione  usb e pulsanti piezoelettrici   indistruttibili  (nessun comando meccanico); gli stessi comandi sono ricoperti di una resina, la quale, in caso di infiltrazioni, ne preserva la  funzione.
La custodia dispone di un sistema integrato di mirino elettronico per l'inquadratura di precisione  senza restrizioni e un monitor da 7" HD che ricopre totalmente il dorso.
La custodia  permette di  utilizzare tutti gli oblò delle marche di custodie più diffuse, per mezzo di anelli adattatori, di cui: Aquatica, Hugyphot, Nauticam, Nexus, Sea & Sea, Seacam, Subal, ecc .
Per mezzo di adattatori specifici si possono utilizzare tutti gli obiettivi Nikonos RS.
La custodia sarà disponibile in due versioni: una versione per fotocamere di ridotte dimensioni ed una versione per fotocamere maggiorate.
Disponibilità sul mercato da maggio.
Rif. 8
Foto Leone Sub propone sul mercato Camera Mask, la prima e unica maschera subacquea con foto-video camera digitali  incluse.
Finalmente una maschera subacquea che permette di scattare fotografie digitali e fare riprese video utilizzabile durante le immersioni subacquee, lo snorkeling, la pesca subacquea, l'apnea, corsi sub in piscina.
Camera Mask è l'unica maschera che ha integrata una foto-videocamera digitale, eliminando la necessità di portare una macchina fotografica subacquea, mantenendo così massima libertà nei movimenti delle mani.
Esistono diverse versioni di questo innovativo prodotto, ognuno adatto alle più diverse esigenze:
Versione Explorer con profondità di utilizzo di 5mt, fotocamera 5Mp, riprese video VGA 640X480, 20fps
Versione D1 con profondità di utilizzo 20mt, fotocamera 5Mp, riprese video 720X480, 30fps
Versione Scuba Series HD con profondità di utilizzo 40mt, fotocamera 5Mp, riprese video HD 1280X720P, 30fps,
Versione Scuba Series Wide Angle, con profondità di utilizzo 40mt, fotocamera 5Mp, riprese video HD 1280X720P, 30fps.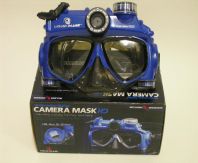 Versione HD
Rif. 7
Foto Leone Sub presenta sul mercato della fotografia subacquea, ABYS 800Z.
Finalmente, disponibile ora sul mercato della fotografia subacquea, il più economico, elegante, funzionale set, composto di fotocamera e scafandro subacqueo: Abys 800Z.
Per le caratteristiche complete del kit consultare la sezione rassegna stampa. 
Il prezzo proposto da Foto Leone Sub è di Euro 140,00.
Per ulteriori chiarimenti  contattateci direttamente al numero telefonico 011. 720754 o tramite posta elettronica Questo indirizzo e-mail è protetto dallo spam bot. Abilita Javascript per vederlo.
Rif.6
SLAVE  DIGITAL PREL

Caratteristiche tecniche
-CONNESSIONE: TIPO NIKONOS A DUE PIN
-COMMUTAZIONE SU TRE POSIZIONI
DA VISTA FRONTALE COMMUTAZIONE IN ALTO
sx= SINCRO SENZA PRELAMPO,
centrale= SPENTO,
dx=ESCLUDE IL PRELAMPO SINCRONIZZANDO L'EFFETTIVO LAMPO
-DISTANZA MASSIMA DI UTILIZZO SUBACQUEO: 3/4 MT IN BUONE CONDIZIONI DI VISIBILITA'
-ALIMENTAZIONE:  2 BATTERIE 3V al LITIO  TIPO 2016
-SOSTITUZIONE BATTERIE: RIMUOVERE SVITANDO LA CALOTTA FRONTALE TRASPARENTE
-ATTACCO PER BRACCI; FORO PASSO M8
-PROFONDITA' DI UTILIZZO: 100MT  
-DIMENSIONI:  LUNGHEZZA 70mm, DIAMETRO 48mm
-PESO: 0,95g.